On most workday mornings, thousands of people in the Seattle area commute on Interstate 5 by moving slowly down the freeway. On most workday afternoons, thousands of people in the Seattle area commute on Interstate 5 by moving slowly down the freeway.
Whether its by driving alone in a car, driving with someone else, riding a bus, or driving or riding in a carpool or vanpool, they move slowly down the freeway.
Many of these people commute on buses, vehicles which can carry more people per 40 feet of road space than cars can in the same 40 feet. These buses use high-occupancy vehicle (HOV) lanes which allow for buses and vehicles with two persons in them (HOV-2), but they increasingly get stuck behind said cars.
WSDOT has a standard where the HOV lanes should have traffic moving at least 45 miles per hour 90% of the time during rush hour. This standard is a condition for receiving federal funding for the lanes, but this is not being met due to too many vehicles in the HOV lanes. If this standard continues to not be met, WSDOT risks losing future federal funding.
WSDOT is currently studying HOV-3 lanes in conjunction with the I-405 high-occupancy toll (HOT) lane project, but standalone conversions of HOV-2 lanes don't appear politically feasible at this time. Community Transit, which has to deal with having its buses stuck in I-5 traffic, has asked for HOV-3 lanes, but the lanes remain unchanged.
To fix I-5's HOV lanes, the number of vehicles in the lanes has to be lowered.
The solution often brought up is to turn the all-day HOV-2 lanes into all-day HOV-3 lanes, and this has received opposition because vehicles with two persons can no longer use the lanes. Alternatively, tolls are proposed for HOV lanes, but those are also criticized.
Widening I-5 by adding another HOV-2 lane would cost billions of dollars, and would require rebuilding and widening of several overpasses. Widening I-5 by adding another single-occupancy vehicle (SOV) lane would have the same drawbacks, and in addition would not help relieve congestion on the HOV lane much since the new lane would mainly be used by SOVs, which are already not allowed in the HOV lane.
The park & rides along I-5 are already full by the end of the morning peak period, and expanding those would get more vehicles off I-5, but most of those vehicles would be SOVs not in the HOV lanes. The increased bus ridership and number of buses would still have to deal with the congested HOV lanes. Sound Transit's Link Light Rail line to Seattle won't reach Lynnwood until at least 2023, and the extension to Everett is still in the planning stages and hasn't been approved by voters yet.
There is one more solution not often considered that should be acceptable to most: peak-hour HOV-3 lanes.
Why (Only) Peak-Hour?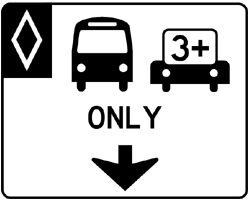 Most traffic congestion affecting the HOV lane occurs during peak hours. As I-5 becomes more congested, and its general purpose lanes become more congested, the HOV lanes become more congested and start failing to do their job, which is to move high-occupancy vehicles at a decent speed.
Outside of rush hour, traffic levels are relatively low enough where both the HOV and SOV lanes are typically uncongested. With this, HOV-2 restrictions are adequate for buses and HOVs during these times, since there are less vehicles including HOVs on the freeway then.
With this, it's only necesary to reduce the number of vehicles in the HOV lanes during rush hour in the main commuting direction. Since SOVs are already not allowed in HOV lanes, the next level is to disallow HOV-2 vehicles by having HOV-3 lanes. (Motorcycles are allowed in HOV lanes by federal law, except for bus-only lanes.)
Having HOV-3 at all times would be a simpler and cheaper option, but it implements the restrictions at times where it could end up being counterproductive. Additionally, it would have more political and driver opposition with having an all-day restriction. A peak-hour-only restriction would be a compromise between the HOV-2 and HOV-3 camps.
On Two-Person Carpools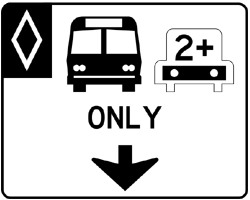 One common criticism of moving to HOV-3 lanes is that this prevents two-person carpool commuters from using them. However, many vehicles in the HOV-2 lane with two people in them are not true carpools, even during rush hour.
Often it's just two related or unrelated people going somewhere not related to commuting. While this wasn't an issue before on I-5 and some other freeways, there are now too many of them for the HOV lane to function properly.
Moving them out of the HOV lanes during peak hours is the overall most effective way of limiting the times the HOV lanes move like molasses.
Implementation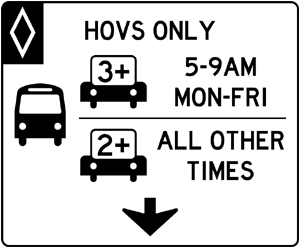 Changing the current HOV signs on the freeway and connecting HOV ramps is necessary for conversion to peak-hour HOV-3. The signs would state which times the HOV lane is HOV-3, with HOV-2 at all other times. There are multiple ways to show the HOV-3 restrictions on overhead signs, with the preferred version shown.
Alternate designs are here, here, and here, in case the preferred version is not compliant with signage codes. The alternate designs have slightly more information on them, with the drawbacks that they are larger in size and can be more complicated to understand by drivers traveling (sometimes) at freeway speeds.
I also took this opportunity to change the bus and HOV symbols shown on the signs. The current HOV-2 sign shown previously has the standard FHWA bus symbol, but the new HOV-3 signs use an internationally-recognized bus symbol with a simpler design.
There appears to be no common standard for the HOV symbol, and different HOV symbols can be found on signs along I-5. The most common one is on the HOV-2 sign shown previously. I created a new symbol which matches the theme of the bus symbol.
HOV-3 Locations and Hours
The location focused on here is Interstate 5 from North Everett to North Seattle. The existing 22.2-mile long southbound lane begins at East Marine View Drive, and ends at the southbound Express Lanes entrance near Northgate Way. The existing 23.2-mile long northbound lane begins at Lake City Way on the northbound Express Lanes, and ends at US 2.
The HOV-3 hours reflect the times most people are commuting toward Seattle in the morning and away from Seattle in the afternoon:
Southbound:
HOV-3 5am-9am Monday-Friday
HOV-2 All other times
Northbound:
HOV-3 3pm-7pm Monday-Friday
HOV-2 All other times
I-405 and I-90 east of I-405 have HOV-2 lane restrictions from 5am-7pm with all vehicles allowed outside those times. For consistency, it's best to have the I-5 HOV-3 restrictions start/end at the same start/end times (5am and 7pm).
An issue  is that the HOV-3 times cannot deviate from the posted days and times, leading to scenarios where the HOV-3 restrictions could apply to major holidays such as Christmas when most people aren't commuting and traffic levels are low.
Adding an extra condition that the lanes are HOV-2 on weekday holidays won't work well, because what is considered a holiday varies between governments and companies, and many people still commute and work on some major holidays. For example, Presidents' Day is a federal holiday but many still work and commute on that day.
However, during major holidays traffic levels and the number of commuters are typically low, so the HOV-3 restrictions likely won't be a hassle.
HOV Exits
The main problem with variable HOV lanes would not be the lanes themselves, but with drivers on surface streets wanting to enter the freeway using the HOV-only entrances. Currently, the HOV-only entrances are always HOV-2, so any driver with at least one passenger can drive to those entrances and expect to enter the freeway from them.
With peak-hour HOV-3 lanes, there is the risk of some HOV-2 drivers driving to an HOV entrance ramps during rush hour and having to turn around because they can't use them. Signs explaining the restrictions at the entrances and guidance signs to SOV entrances around the HOV entrances (which don't tend to exist currently) should be placed.
Between Everett and Seattle, there are three HOV-2 exits and two bus-only exits:
Broadway
South Everett Park & Ride/112th Street SE
Ash Way Park & Ride (Bus-Only)
Lynnwood Park & Ride/46th Avenue W
Mountlake Terrace Freeway Station (Bus-Only)
Broadway, Everett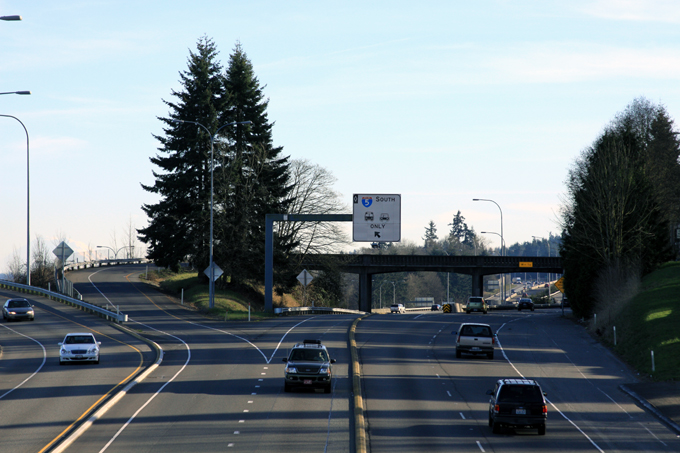 This partial exit allows access from southbound Broadway to southbound I-5 and from northbound I-5 to northbound Broadway. The adjacent 41st Street exit provides full access to the area, and 41st Street has a short connecting street to Broadway. Interestingly, traffic from northbound Broadway to northbound I-5 is not handled by these exits, with that traffic having to shift beforehand one mile south to nearby parallel arterials to access 41st Street.
The HOV ramps were opened in 2008 after the entire exit and stretch of freeway were rebuilt. The old northbound left-side SOV exit ramp was converted into both HOV ramps, while a new right-side SOV exit flyover was built.
Since the Broadway HOV and SOV ramps are accessed from the same points, signage and directing HOV traffic is not an issue here.
South Everett Park & Ride/112th Street SE, Everett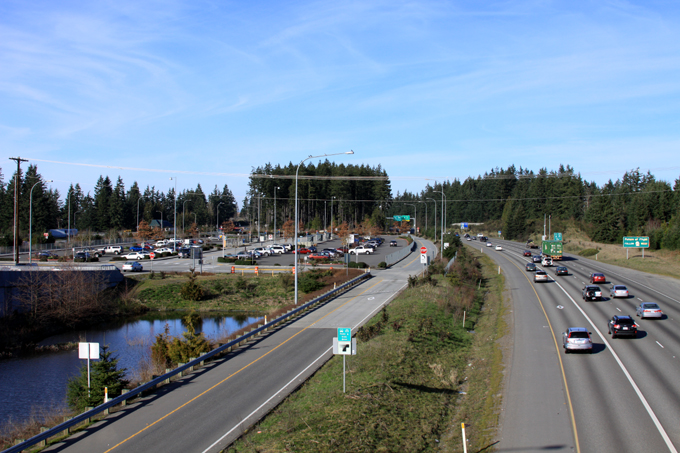 Opened in 2008, this exit provides access to South Everett Park & Ride located in the freeway median, and to 112th Street SE. The closest SOV exits are the SR 99/SR 526/SR 527 interchange two miles north, and the 128th Street SW/SR 96 exit two miles south.
This is an HOV exit not near an SOV exit, so vehicles with two people would have to make a significant detour to an SOV exit depending on the direction of travel and the time of day, due to the peak-hour HOV-3 restrictions.
Ash Way Park & Ride (Bus-Only), Lynnwood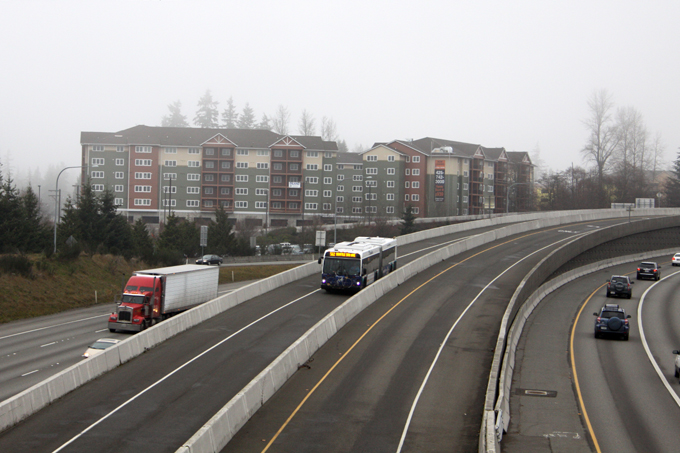 Opened in 2005, this bus-only exit allows buses to travel between Ash Way Park & Ride and I-5 to and from the south. The exit is designed to have access ramps to and from the north, with construction deferred due to lack of funding. The HOV-3 restrictions would not affect this exit.
Lynnwood Park & Ride/46th Avenue W, Lynnwood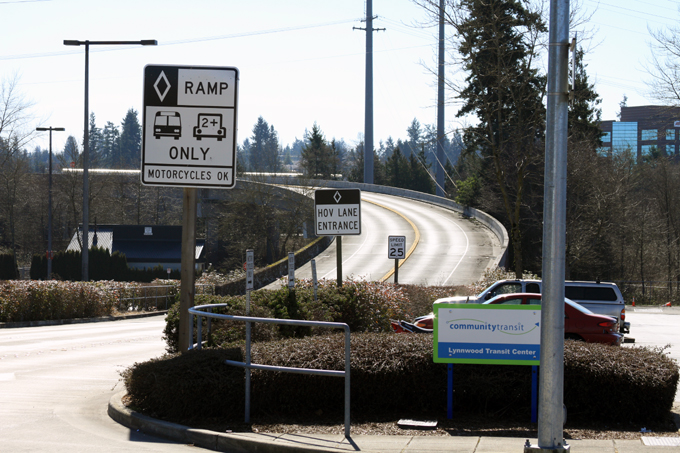 Opened in 2004, this exit provides access to Lynnwood Transit Center, and to 46th Avenue W which connects to 200th Street SW.
While the 44th Avenue W SOV exit is nearby, it is a partial exit with I-5 access to and from the south. Vehicles with two people traveling to and from the north would have to detour to the 196th Street SW exit depending on the direction of travel and the time of day, due to the peak-hour HOV-3 restrictions.
(Note: Freeway signs state "Lynnwood Park & Ride", while the facility is officially named "Lynnwood Transit Center".)
Mountlake Terrace Freeway Station (Bus-Only), Mountlake Terrace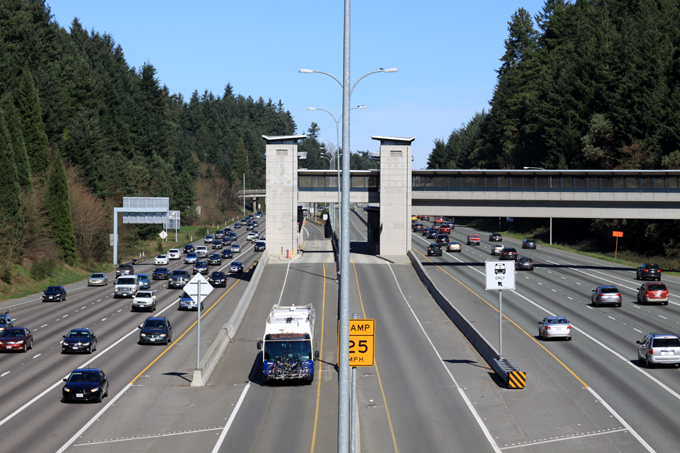 Opened in 2011, this bus-only exit allows buses to access Mountlake Terrace Freeway Station, which has a pedestrian overpass to Mountlake Terrace Transit Center. The HOV-3 restrictions would not affect this exit.
Conclusion
Overall, peak-hour HOV-3 lanes on Interstate 5 should adequately meet the needs of HOV lane users and speed up the increasingly delayed bus services, and they would be more politically feasible than 24/7 HOV-3 lanes or HOT lanes that manage traffic levels partially by tolling.
While typical solutions to the HOV-2 issue are those two above, peak-hour only restrictions should be a good compromise which seems to not have been properly looked at yet.
External Links & References: