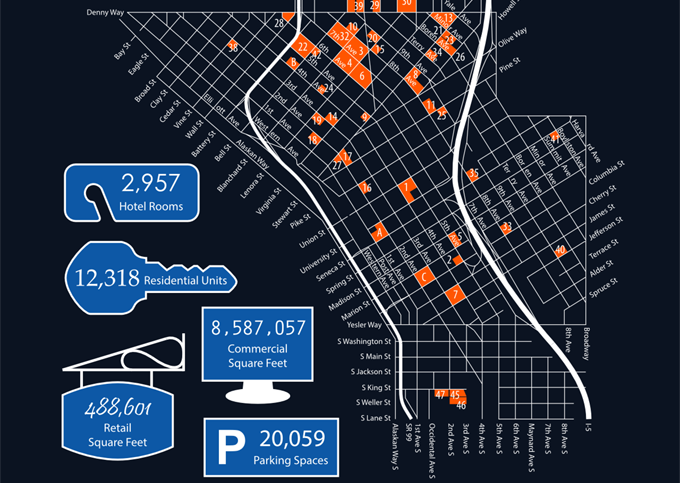 Several large buildings are being proposed, under construction, or recently completed in Seattle, adding homes, offices, stores, parking, and more to meet demand. Featured in this infographic are building projects in Seattle which include skyscrapers at least 200' tall.
47 current projects are featured in this infographic, and an additional 3 projects are included in the map and table but do not have adequate information to be included with the other projects.
The infographic was created using data from different architect, developer, government, and news websites, with much of the information coming from design review documents from the City of Seattle.
Recently Completed:

Dimension
Premiere on Pine

Started Construction:

Fifth & Columbia
2000 Third Avenue
1007 Stewart
Luma

New Proposals:

3rd and Lenora Tower
970 Denny Way
425 Fairview Avenue N
2&U
2302 4th Avenue
888 2nd Avenue

Total Changes

12,318 (+2,173) Residential Units
488,601 (+114,203) Retail Sq. Ft.
8,587,057 (+1,325,200) Commercial Sq. Ft.
2,957 (+593) Hotel Rooms
20,059 (+3,215) Parking Spaces

Information Changed:

Rainier Square Project (+50′; -42 units; +40,000 sq ft commercial; -50 hotel rooms)
Altitude Sky Tower (More info; Name changed; +100′; -2 units; +2,070 sq ft retail)
2202 8th Avenue (+3′; -1,154 sq ft retail; -50 parking spaces)
1200 Stewart (Info for both towers shown)
2nd & Pine (Separate attached underground parking added; +168 parking spaces)
2nd & Virginia North (-4 floors; +80 units; -733 sq ft retail; -9 parking spaces)
Insignia (Info for both towers shown)
Kinects Tower (+26 units; -2,000 sq ft retail; +25 hotel rooms)
Tilt 49 (Height re-rounded -1′)
1613 2nd Avenue (More info; +35′)
Onni Project South (Info for both towers shown)
Onni Project North (Info for both towers shown)
Amazon Block 21 (More info; Name & address changed; +283,600 sq ft commercial; +557 parking spaces)
401 8th Avenue N (+1 floor; +6 parking spaces)
Dimension (Height corrected +34′; -2,879 sq ft retail)
427 9th Avenue N (+400 sq ft retail; +33 parking spaces)
901 Harrison Street (-36 units; +3,483 sq ft retail; +15 parking spaces)
Stadium Towers Embassy Suites (More info; Name changed; +2 hotel rooms)
Stadium Towers South (More info; +10,000 sq ft commercial)
Stadium Place North (More info; -24 units; +75 hotel rooms)
Link to full image. Link to 1000px wide image.