Some of the newer single-family housing developments in Snohomish County have three-story houses with what appear to be one-car garages from the outside, next to two-story houses with traditional two-car garages. In reality, those three-story houses do have two-car garages, using a concept called the tandem garage.
Tandem garages have their advantages and disadvantages on their usefulness. Also, they are debatable on whether they are built with the homeowner in mind, or for the developer's bottom line.
Two-Car Tandem Garages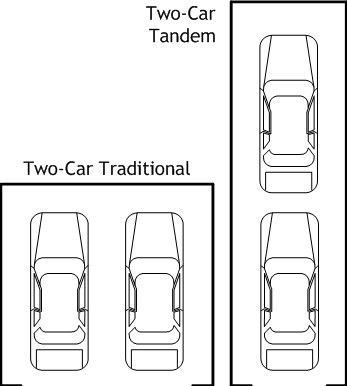 The most common type is the two-car tandem garage. While a traditional two-car garage stores two cars side by side, this tandem garage stores two cars end to end. From the outside, it appears to be a one-car garage.
This garage type is mainly found in narrower three-story houses and detached condos on small lots, and in townhouses.
Three-Car Tandem Garages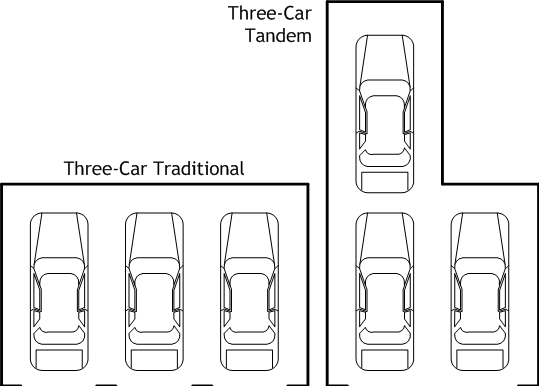 A less common type is the three-car tandem garage. Instead of three cars side by side, two cars are side by side and a third car is placed end to end with one of the other cars. From the outside, it appears to be a two-car garage.
This garage type is mainly found in larger houses where the target market typically prefers three-car garages, but the lot sizes aren't wide enough for the traditional three-car garage.
Advantages for Homeowners:
It can be more aesthetically pleasing to have a smaller garage door or less garage doors on the front of the house, and can allow for a smaller driveway with more room for landscaping.
The inner garage space can be used as a storage or work space. This is useful for households with less cars than garage spaces, or where a car(s) would be parked outside.
A tandem garage can allow for a house to be narrower, decreasing the amount of land a house takes up. For homeowners, this means the house can cost less to purchase. Also, the tandem garage itself can result in a lower house price, due to less people appearing want a tandem garage.
Disadvantages for Homeowners:
The main disadvantage can be seen in the diagrams above: the inner car(s) is blocked by the other cars parked in the other garage spaces. If a resident wants to drive an inner car, the corresponding outer car has to be moved out of the garage first, the inner car can be moved out for use, and the outer car has to be moved back into the garage or left outside. Shuffling around two cars just to use one car can be a hassle for tandem garage users.
Since less people appear to want a tandem garage over a traditional garage, it can be a minor issue in selling a house since there is a smaller pool of likely buyers. While this can lead to a homeowner selling a house for a lower price, the homeowner most likely bought the house at a lower price as well.
Advantages for Developers:
A tandem garage can allow for a house to be narrower, decreasing the amount of land a house takes up. For developers, this can mean an extra house can be built on a plot of land, and can increase developer profits even when taking account of the decreased sale value of houses with tandem garages.
Tandem garages can cater to buyers looking for storage or work space and have a lower number of cars than the capacity of the tandem garage. However, traditional garages can also accomplish that task.
Disadvantages for Developers:
Houses with traditional garages appear to be preferred over houses with tandem garages. This means a developer can have a harder time selling tandem garage houses without having to lower the expected selling price of those houses.
Zoning codes may affect if an inner tandem garage space can be counted as a separate parking space, or as combined with the outer tandem space. Due to parking requirements, developers may have to provide an additional parking space on a driveway or an adjacent street if a tandem garage is used.
What About Driveways?
While many people park cars in their driveway, and sometimes block a car inside a garage as a result, the driveway tends to be used more for parking in cases when a corresponding garage space does not need to be used at the time, or when guest parking is needed. In these and other cases, street parking can serve as a more similar alternative parking location to driveway parking, while it is more different compared to garage parking.
Other Associations
Houses with two-car tandem garages are almost always three stories tall. However, this is not exclusive to tandem garages, since many similar houses with traditional garages are also three stories tall. Particularly in several detached condo developments, one can find three-story detached condos with traditional and tandem garages.
Tandem garages appear to be mainly found in unincorporated areas, where zoning codes are more relaxed and allow for denser single-family houses and detached condos.  All houses and detached condos shown in the photos here were built in unincorporated areas.
Conclusion
It appears that tandem garages are mainly preferred by developers wanting to fit more houses into a development, while residents appear to prefer traditional garages. Traditional garages can do the same tasks as tandem garages, and can do some tasks better.
In my opinion, tandem garages are not something to be encouraged. While houses with tandem garages are selling, residents probably see them and the resulting three-story house as tradeoffs for slightly lower housing prices.
(December 2, 2014: The four-car tandem garage section was removed due to lack of relevance.)